American Swims at UN Climate Change Convention
Bali-based Monte Monfore expresses his love for the sea and its creatures with another marathon swim.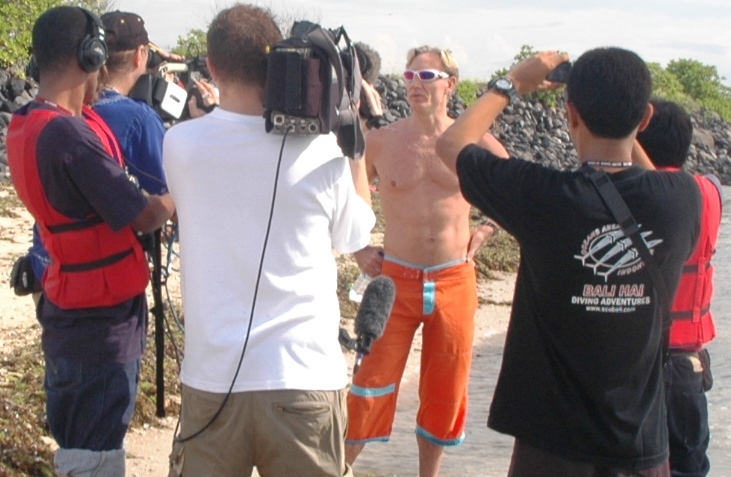 On the morning of December 10 environmental and humanitarian swimmer Monte Monfore swam six kilometers from Serangan Island to Nusa Dua. His Reverse Climate Change Swim was an official parallel event to the United Nations Climate Change Conference in Bali.
Addressing the media before entering the water the 46-year-old American endurance athlete said, "This swim is to support efforts to reduce global warming, and highlight the serious threat it poses to the world's endangered coral reefs." Continuing his series of swims promoting the United Nations Millennium Campaign the native Californian announced the event was also promoting Millennium Development Goal number 7: Ensure Environmental Sustainability.
Wearing "Save the Reefs" and "Live Green" slogans on his swimsuit and cap, Monte dedicated his swim to "Mother Earth" and reminded the press and observers that "it's our responsibility to protect and safeguard this fragile planet for future generations."
The Swim
Following a morning downpour Bali's skies brightened before the swimmer entered the water at southeast Serangan Island at 9:19am. Because of strong outer-reef currents the athlete's support team advised him to swim inside the reef where he faced substantially less current. The change in route lessened the originally planned seven-kilometer swim to six kilometers. Despite swimming against a slight current most of the way Monte said he was very pleased with the windless conditions, which greatly improved his stoke efficiency.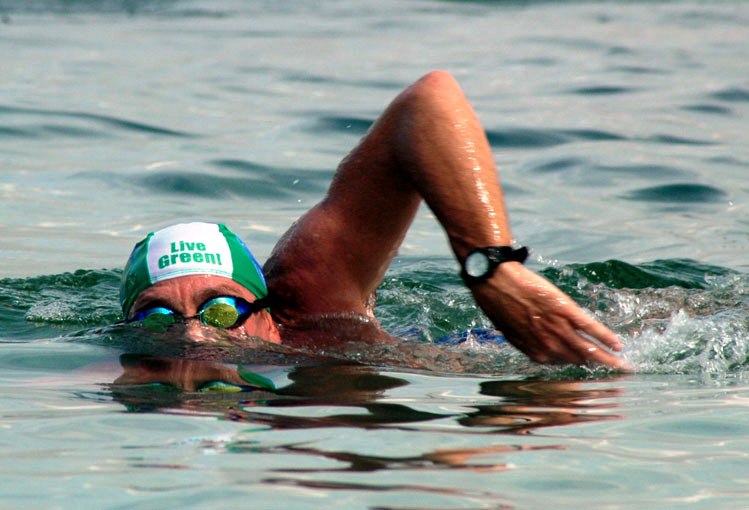 Before the start the athlete drank five large glasses of a high-calorie liquid consisting of eleven eggs, protein powder, fruit, yogurt, and peanut butter. To contend with warm ocean water and prevent dehydration the marathon swimmer consumed a sports drink approximately every 15 minutes. He strictly obeyed the rules of ocean swimming: no wetsuit, no fins, and no touching the support boat.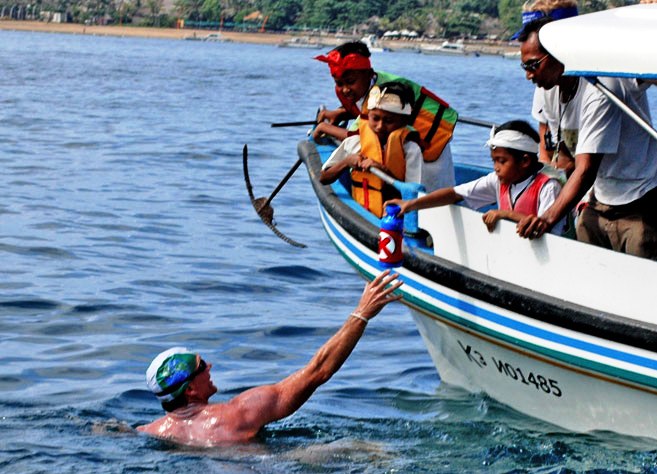 Monte's swim was supported by half a dozen vessels, three filled with armed Navy and Marine Police escorts as he swam the busy Benoa Harbor channel. Another boat carried excited children from Bali-based Baitul Muslimin Orphanage and a gamelan bronze-gong orchestra, which played throughout the swim. The armada of warships securing Nusa Dua and the UN Conference provided an interesting and unique navigational challenge to the swimmer.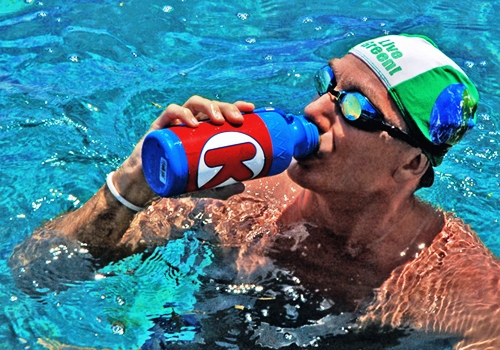 Following the two-hour three-minute swim the athlete stepped onto white sand Nusa Dua beach at 11:22 in front of the Climate Change Convention venue and event sponsor Westin Resort. He was greeted by a cheering crowd of UN officials, observers, and more than 20 members of the media.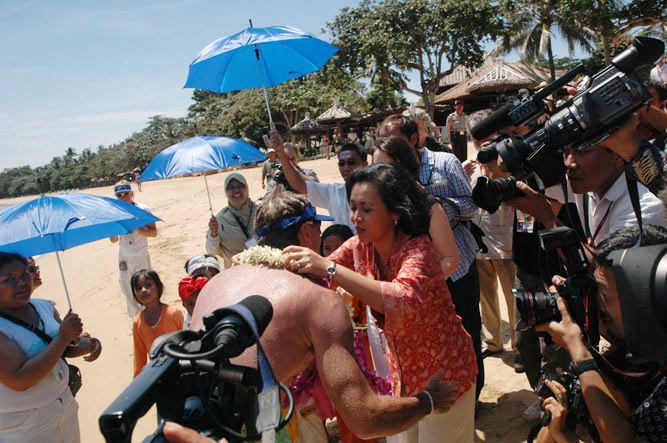 Heartfelt Speech about the World's Oceans
Echoing the message being delivered just meters away inside the UN Conference Hall, Monte informed the press that he had "terrible news." The passionate ocean lover went on to say, "The ocean is dying….15 years ago I used to see dozens of reef sharks and turtles every week. Now I rarely see them." He spoke about the "beautiful coral reefs" dying because of global warming, which, he said, was "up to all of us" to stop. He concluded by encouraging people" to change their lifestyles and learn to reduce their carbon footprints" and invited "everyone to join the growing chorus of citizens worldwide becoming part of the Green Generation." (read full post-swim speech below)
Following his remarks, the swimmer introduced renowned US-based Coral Ecologist Dr. Thomas J. Goreau who spoke briefly about the effects of garbage, pollution, and global warming on the world's ocean and sensitive coral reef ecosystems. Monte then announced that his swim was "carbon neutral" and introduced Yensen Alaiman of American Express who revealed that his company would be planting and maintaining 300 trees on nearby Nusa Penida Island to offset carbon emissions and mark the "Reverse Climate Change Swim."
Children's Charity and Turtle Release
Reflecting Monte Monfore's strong commitment to child welfare in Indonesia, main sponsor Circle K presented a US$2,500 check to Sanur-based Baitul Muslimin Orphanage children attending the ceremony. To the delight of the kids, spectators, and the media, the event climaxed with a release into the sea of two 50-centimeter green turtles provided by supporter WWF. Monte announced the emancipation as "a protest of the illegal turtle trade and inhumane slaughter of these magnificent creatures."
Past and Future Swims
The event was Monte's sixth UN-related swim in 20 months. As per his usual routine the athlete wore a white wrist band during his swim as a symbol of commitment to the Global Call to Action Against Poverty. On his 2008-2010 agenda are a swim supporting Bali Community Cares organization for children of HIV/AIDS patients, a Save the Forests Swim with Greenpeace, a Fight Hunger Swim with recently appointed WFP Fight Hunger Ambassador Drew Barrymore, a Water For Life Swim, an Earth Day Swim in Singapore, another Millennium Campaign Swim, a Save the Reefs Swim in Indonesia's Komodo National Park, a Project Red Swim, and a ONE.org Swim.
UN host broadcaster Eurovision and Reuters Television sent event footage to broadcasters worldwide. Event video produced by Stormbird Media will be submitted to UN, Indonesian Ministry of the Environment, WWF, Greenpeace, and environmental websites. Monte welcomes event funding and ideas or proposals for future humanitarian, environmental, and save the reef swims. A portion of funding is contributed to charity each event. Euro Bali is pleased to support Monte's swimming. Donate to hungry children and watch swim videos at www.monteswimmer.com or www.OneOceanOneWorld.org.
Monte's post-swim speech:
"I have some terrible news. The ocean is dying. This is something I've been witnessing firsthand. 15 years ago I used to see dozens of reef sharks and turtles every week. Now I rarely see them. The beautiful coral reefs are also dead or dying. The major cause of this destruction is global warming….which must be stopped. My message today is that it's not the responsibility of government and business alone. It's up to all of us. With six and a half billion of us on the planet our collective behavior has a huge impact. I encourage people to change their lifestyles and learn to reduce their carbon footprints. It's really very easy and requires minimum effort. I invite everyone to join the growing chorus of citizens worldwide becoming part of the Green Generation."
Photo credit: Erik Wijaya