Economy
For the last thirty years Bali has been developed as one of the world's premier tourist destinations, receiving over 2 million visitors a year. The planning of tourism development focused on the south of the island (Nusa Dua, Sanur, Kuta and Legian) was intended to minimise the impacts of tourism on the island's cultural life but has led to inequities between the south and other parts of the island. Tourism had grown to be Bali's main economic sector, direct supporting roughly 58,000 jobs with more than 20% of the population directly dependent on the sector. The overall contribution of tourism to Bali's economy is estimated to be in the region of 60-70%.
The bombings in Kuta on 12th October 2002 caused an enormous loss of life and damage to the social and economic fabric of Bali. Despite the efforts of the government and provincial authorities, direct international tourist arrivals dropped from 150,747 in September to 31,498 in November 2002. The period from December 2002 to March 2003 saw signs of a recovery in tourist arrivals, but plummeted again in April and May 2003 through the impacts of the outbreak of SARS and the war in Iraq on international tourism. Although Bali has seen downturns in tourist arrivals in the past, including the Gulf war of 1991, the island has never before experienced a crisis of such magnitude and duration.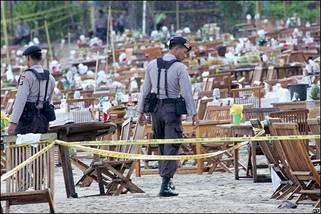 The crisis in Bali's tourism sector has had an impact both on tourist-related sectors and local livelihoods. not just in Bali but also in other areas such as East Java and Lombok that are dependent on market demand in Bali. Bali's economic recovery remained vulnerable to both future international and domestic events including the war in Iraq and tensions surrounding the trial of the bombers and 2004 elections in Indonesia.
Bali's economical high dependence on tourism and the resultant reduction in tourist arrivals impacted the island heavily, leading to a financial crisis in the business sector, which is dominated by tourism and small tourist-related businesses such as handicraft producers and traders, job losses, reduced family incomes and welfare and an increase in social tensions. The current situation requires flexible long-term approaches to promote recovery and sustainable human development in Bali.
Bali's Tourism Boom
The island of Bali has developed as one of the world's premier tourist destinations with
over one million foreign visitors flying directly to Bali each year since 1994. Since the mid-eighties, visitor numbers to Indonesia as a whole as well as Bali have increased by more than six-fold, doubling in the 1990s, with around one-quarter of tourist arrivals to Indonesia being direct arrivals into Bali. Despite the turbulent times of Indonesian economic upheavals and political transition after 1998, visitors continued to come, in part due to a cheaper Rupiah.
While Bali's 3.4 million inhabitants account for just 1.6 percent of Indonesia's population, almost all foreigners coming to Indonesia are exposed to the island.
The international image of Indonesia indeed appears inextricably tied to Bali. Actual visitors to Bali far exceed those arriving directly in Denpasar, with an estimated one half of international visitors to Bali coming via other ports such as Jakarta, often combining their visit with other destinations such as Yogyakarta.1 In addition, many Indonesians, as well as foreigners based in Indonesia, choose Bali for their domestic holiday. Visitors to Bali therefore include three types: foreign direct arrivals, indirect foreign arrivals and domestic visitors. East Java, with a population of more than 38 million and a workforce of over 18 million, is Indonesia's second most populous province. It has significant linkages to Bali based largely upon trade and migration. The province has increasingly provided for the needs of the growth of the Bali tourist industry including handicrafts, furniture, silver, and food as well as migrant labor. Major commodities traded with Bali include wood, rattan, silver, metal, stone and gemstones, bamboo, leather, clay and ceramics, garments, food and fresh produce.
The first Bali Tourism Development Master plan was funded by UNDP with the World Bank as executing agency. Development began in April 1970 by the French firm Societe Centrale pour l'Equipement Touristique Outre-Mer (SCETO). By 2000, Bali had 113 starred hotels. With over thirty six thousand rooms, Bali now had over five times as many rooms as the ambitious targets initially set by the SCETO planners. The majority of these rooms were attributable to the non-starred sector.
The Structure of the Balinese Economy

Employment
(2002,%)

RDGP (2000,%) (Rp.T)

Growth (1997-2000,%)

National Employment (%)

National RDGP (%) Rp.T.)

National Growth (1997-2000,%)

Agriculture

32.2

20.6

0.5

44.9

16

5.4

Mining & Quarrying

0.5

0.7

-1.6

0.9

8.7

5.5

Manufacturing

14.5

9.6

-3.5

12.6

20.9

-11.1

Utilities

0.1

1.3

30.9

0.1

1

23

Construction

7.9

4.2

-9.6

4.4

4.6

-33.7

Trade, Restaurants, & Hotels

24.2

33.2

1.1

18.3

15.4

-6.8

*Wholesale and Retail

20.2

12.1

-12.2

17.3

12.7

-7.4

*Hotels

2.9

12.9

9.1

0.2

0.5

-6.1

*Restaurants

1.1

8.14

7.1

0.7

2.23

2.7

Transport and Communications

5.1

11.3

-2.8

5.6

5.2

4.6

Financial Services

1.2

6

0.6

0.62

5.4

-17.22

Public Administration and Services

14.3

13.2

-0.9

12.61

7.13

-2.45

TOTAL

1.71 million

1.65

-0.5

87.29 million

1,291

-6.48

Source: National Socio-Economic Survey (SUSENAS) 2002 and BPS Regional Accounts. National figures

include oil and gas processing, which accrues to mining and manufacturing. These differ somewhat from the

national accounts. Figures for 2001 were not yet available.
Small and Medium Sized Businesses
Many small and medium-sized businesses in Bali are in need of support to ensure the survival of those with good long-term prospects. The government and donors should focus on immediate initiatives to support the financial situation of local businesses through debt restructuring and perhaps other fiscal measures, provide support with training for business management in a crisis situation, and support businesses in accessing new markets for existing products.
Access to markets is considered to be the main problem facing small business affected by the crisis. These impacts are felt well beyond Bali and require enhanced efforts in marketing and trade promotion to support affected businesses. In particular, the effective provision of information, cooperation between provinces, and where appropriate, the use of information technology and the media can help to make promotion cost-effective. Regional governments and business associations should seek how to use Indonesia's overseas missions and trade promotion facilities in their marketing activities.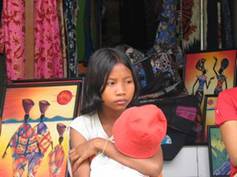 Social welfare impacts have increased since January 2003 and Bali is now truly experiencing the beginning of the predicted socio-economic crisis following the Kuta tragedy. Current information indicates that probably hundreds of thousands of people have experienced substantial reductions in working hours and salaries for a sustained period since the crisis began, while many others have lost jobs and livelihoods. Unemployment, and more importantly underemployment, is emerging as one of the key issues requiring response.
Sustainable Development and Growth
Rather than depending on tourism for the future, Bali further needs to diversify its economy, especially to support further growth and development in the districts where tourism does not play a significant role in the economy. Small and medium-sized enterprises in Bali, East Java, Lombok, and beyond dependent on markets in Bali require support in order to reduce their dependence on tourist arrivals and create more sustainable local comprehensive economic development plans.
Although Bali is currently in crisis, Bali has much potential for future investment. Foreign investors can assist in bringing in skills and experience that can support the development of added-value industries.
Small Businesses: Building a Strong Private Sector
Bali has emerged as the showroom for many Indonesian products. Yet with Indonesia facing increased competition from other countries for export markets, there is a long-term need for Bali to cultivate further innovation, competitiveness, and market development in order to reap more fruits from new sectors and move up the value chain.
SMEs, fair trade systems and village industries need to be supported for technical assistance for product design, innovation, production, marketing, management, business strategy development, education and vocational training from unskilled to skilled workers and support vocational training institutes, use information technology and multimedia tools to support, define, and win new markets, make information and training available to small businesses and cooperatives on relevant appropriate technologies, consolidate information on economic potential providing easy access for small businesses, cooperatives and small investors.